Monday Must-Haves: January 19, 2015
Happy Monday friends! I hope you guys had a great weekend and are just as excited about this week as I am. There is a ton of stuff going on in my life and I can't wait to tell you guys about it later this week. As for today, there's a whole new set of Monday Must-Haves to make your week fantastic! Sports: 
The Australia Open started today and if you're like me you'll watch just about any sport that might be on, even if it's just for background noise while doing something else. Tennis is one of those sports that you might not like at first, but once you get into it and really understand the game there's no turning it off. I know that's what happened to my best friend and personal stylist, Emily. She started watching a tennis tournament one weekend while she was sick and now she loves the sport. I have no idea who is going to win this tournament, but I do know that this is going to be a great one to watch as it is the kick off to the whole tennis circuit for the season. If you're wondering who Emily is supporting, so naturally I'm supporting, it's Novak Djokovic.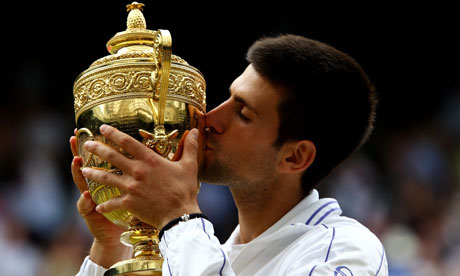 Social Media: 
The past few weeks, I've become kind of obsessed with this idea of blogging my way through Jamie Oliver's "15 Minute Meals" cookbook, kind of like that movie "Julie & Julia." I say all of that because Jamie Oliver ha launched an app called  "You" and it's pretty cool. The idea is to take a picture of the "action of the day" which could be anything from the view where you are standing at any one moment, to a random piece of fruit. This turns into people liking and commenting on the photos, much like Instagram, but Jamie Oliver is the head of the whole thing and decides what the action of the day is going to be and is really good at explaining why that was the thing chosen for that day.
You can read more about the YOU with Jamie Oliver app here.
Hair: 
I have pin straight, long, thick, hard-to-style hair. If you're hair is anything like mine, you find yourself dissapointed a lot when you want to curl your hair and you spend about an hour curling it, then it doesn't hold. Cry no more my friends, the Bed Head curling wand is the best thing in the world for all of us with the straight hair struggle. I used this magic device one time and it took just about 20 minutes to curl all of my hair and it held all day, then I slept in the curls, and they held through the next day. TWO DAYS OF PERFECT MERMAID CURLS!!! I know you ladies dream of being a mermaid. This is what my hair looked like after I finished curling it. 
You can buy the curling wand by clicking on the photo below.
Makeup:
When I went out last weekend and got the Urban Decay foundation I also picked up a "Try It!" kit from Smashbox. I love Smashbox products, as they last a long time and the quality is really good. One of the products I got was a a shadow primer. I can't go a day without primer on my eyes, otherwise I get those annoying creases and no one wants those. From the very second I put this product on, I fell in love. It's so smooth and light. I wore my eye makeup for almost 12 hours the other day and well into the night and when I got home to finally take it off, there were still no creases and everything was still in it's place. I really can't say enough about this product! You just have to try it out for yourself.
You can buy the Smashbox 24-Hour Photo Finish Shadow Primer by clicking the link below.
Fashion:
Right now it's almost 70 in Jacksonville, and we are definitely getting little peaks of spring throughout the winter air that I think is lingering around too long. But despite all of my seasonal affective disorder complaining, there are a lot of really awesome spring fashions coming into the stores already. And automatically when people think spring they think florals, and my mind goes straight to the movie "The Devil Wears Prada" and this quote
I'm really not a loud spring floral kind of person. I like dark colors. My closet is mainly black. But what I have found I like in the florals department is pops of floral. A cute crop top, a full skirt, but never together! What I'm really obsessing over right now are these shoes from Chinese Laundry! They are the perfect pop of floral to an all black or mono-chrome outfit, and they are just downright awesome.
Music:
It wouldn't be a proper FAS post without the mention of one, Mr. Harry Styles. But if you're about to tune out please stay with me for a moment. I was scrolling through twitter, when I found a random tweet pop up on my timeline from Paul Roberts. The tweet simply said: "Thank you @Harry_Styles for introducing me to @rhodesmusic. EP on REPEAT." Me being the curious kitten that I am decided it was a good idea to see who this rhodes music was. Let me just come out and say that I too have been listening to the RHODES EP on REPEAT! The singer/songwriter is from the UK and has amazing talent. It's the kind of music you want to listen to while doing just about anything. Some of the songs haunt you as you listen to them, but some of them just make you feel so alive.
So thank you once again Harry for introducing me to another artist I absolutely love.
http://www.youtube.com/watch?v=0S4iN7ddKH8
YouTube:
This week while I was going around YouTube I found this gem, which has been shared and watched thousands of times.
http://www.youtube.com/watch?v=Qh0BwuxHRAg
Moral of the story here, always kiss your date otherwise she might find herself on another date.
Food:
There's a great spot at Jacksonville Beach for brunch, lunch, dinner, late night snack, or really any time of the day and it's called Zeta Brewing. I really love Zeta for a few reasons. The atmosphere inside the restaurant is really fun and inviting. The food is fresh and really good and reasonably priced. But most of all I love that they are a micro-brewery here in Jacksonville. If you are ever out around Jacksonville Beach definitely check it out!
Well that's it for this week's Monday Must-Haves! If you try any of these things out or have anything you think I should give a go for next week let me know in the comments.
Currently listening too: "One Day" by Kodaline