Monday Must-Haves: January 12, 2015
"If you needed some wisdom on a Monday morning: 'Coffee is like a man. Do NOT settle for crap.' "- @emilyb1016 Yep, I took that quote right off my best friend's twitter account after I sent her that advice after she didn't go to her usual coffee place this morning. I thought it might be a good idea to share it with all of you on this Monday morning/ afternoon/ evening, depending on where you are reading from. Anyways, I hope you guys had a fab weekend. I'm really excited about today's list of things because there is so much going on in Jacksonville and I've found a lot of great new bits for my wardrobe and makeup collection over the weekend and I finally get to share them with you guys!
Sports: 
Tonight is a huge night for college football, as it is the very first College Football Playoff's Championship game. The game is between the Ohio State Buckeye's and the Oregon Ducks. The game really should be a good one. Both teams were considered the underdog team in their previous round of play and ended up beating Florida State University and Alabama. I think the game is going to be close and low scoring, but I could definitely be wrong, because that's how sports work. But my choice to win is Oregon!
Social Media:
Last week I talked about Sugarscape, and they recently posted an article about a semi-new youtuber named Meg. Let me just tell you that if you like Zoella and Tanya Burr you will love Meg, so go ahead and hit the follow button on all of her social media accounts. She is so cute and knows what she's talking about when it comes to makeup. She is always throwing in great little tips and her tutorials are really easy to recreate on your own.
You can follow Meg on Twitter here: @MegsBoutique
You can follow Meg on Youtube here: Meg's Boutique
Hair:
If you've been around here, or have met me, my love for the man bun is bound to come up in conversation. In fact I use it as a hashtag on twitter every now and then #ManBunMonday. But recently I found a new hashtag that I can use too, #MondayBunDay! I think this is absolutely perfect because you know that you don't ever want to have to put much effort into your hair after a long weekend and going back to the office can be a major drag. Well putting your hair up like this not only makes you look work appropriate, but it takes literally three minutes to do. Just braid your hair, twist it around itself and pin it so it stays in place. BOOM! Perfect #MondayBunDay hair.
To go along with this, here's a picture of my favorite man bun because it is #ManBunMonday after all.
Makeup: 
So this weekend my mom and I went into Ulta after my best friend and I had a not-so-good experience at a different Ulta location. Let me just tell you that the second time at a new location was so much better. The lady helping me, Laura, was so nice and spent probably a good 30 minutes going over the product I ended up buying with me. The product is Urban Decay's Naked Skin Weightless Ultra Definition Liquid Makeup. I was a bit apprehensive about this product at first because of the price tag that came with it, but I've gone through countless bottles of foundation that are all way to yellow that are supposed to "match my skin." Well this one is not yellow at all, and it matches my skin perfectly and covers up all those pesky spots up. It's so light and I feel like I'm not even wearing makeup. It's definitely worth the investment.
Fashion:
While I was out and about this weekend I picked up this skirt from Target and it's so cute! I know what you're thinking, "Florals for spring, how original." (You definitely just channeled your inner Miranda from The Devil Wears Prada) But I hate floral prints, but what I think I love most about this skirt, besides the hidden pockets, is the fact that it's not a loud floral and it's base is black. I also really like the fabric and how there are stripes of solid fabric and stripes of almost sheer fabric. My stylist best friend made the cutest winter outfit out of this, pairing it with black tights and black booties and a black sweater or long-sleeved shirt.  She also made it really cool for spring by ditching the tights, adding sandals or nude heels, and a royal blue colored shirt.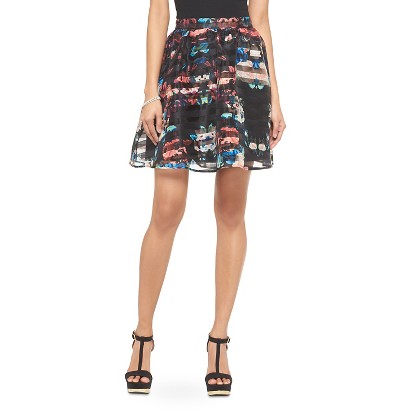 Music:
This week I'm spending a lot of my time looking for jobs and that means going to my local Starbucks to get out of the house to do it. Looking for jobs is tedious and really not that fun until you actually find one that you are applicable for. I've found that I get really distracted if I listen to music with words because I tend to start to have a sing-a-long. I've really been loving The Piano Guys while I've been looking for jobs because they cover new songs like Taylor Swift's "Begin Again" and One Direction's "Story of My Life."
http://www.youtube.com/watch?v=P94DusN4LsY
http://www.youtube.com/watch?v=yET4p-r2TI8
Youtube: 
As a recent college graduate with no job yet I spend some time rummaging around Youtube. This week's video is one of Jimmy Fallon's Hashtag videos where 5 Seconds of Summer sings them, and it's titled "Fall Songs."
http://www.youtube.com/watch?v=a46s7jFzb0s
Food:
I love brunch! That should come to no surprise to anyone as I usually have at least one brunch date with my friends on my calendar at all times. There's a wonderful place in Jacksonville called Moxie Kitchen + Cocktails. They have some of the best brunch I've ever had. Everything on the menu sounds so good, but I got the chicken and waffles, as that is my favorite brunch item. My plate came out and the food was so good! It was nothing like I expected yet familiar all at the same time. If you are ever in Jacksonville, Moxie is the place to go.
Well, that's it for this week's Monday Must Haves! If you try any of these things this week, or have something you think I should take a look at for the next few weeks, let me know!
Currently Listening Too: "Move" by Little Mix